Florinda-Cava
Penedes, Spain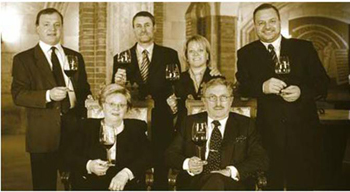 Vallformosa is a family-owned winery, now managed by the fifth generation of the Domènech family. It was established in 1865 in Vilobí del Penedès, southwest of Barcelona in the heart of the Cava D.O. appellation of Spain. The family name first appeared in local history as far back as the 10th Century. In 1865, Don Francisco Jose Domènech planted vines on the land that became the family's first vineyards. After Phylloxera destroyed almost all the vines in Spain in the late 1880's, Vallformosa was among the pioneering wineries to replant non-contaminated rootstock. In the late 1930's, the Spanish Civil War erupted and part of winery was destroyed during fierce fighting near the end of the war. In 1940, when the Domènech family returned to rebuild the winery, Don Jose Domènech Torne (the son of Don Francisco) produced the first three bottles of Vallformosa Cava. Since the beginning, the Domènech family has been passionate about their wines and, even today, follow the teachings of their ancestors that the "soul of the wine is in the soil and in their family roots."

Heavily involved with charitable endeavors, the Domenech family and Vallformosa are actively involved with cancer research through the Catalan Oncology Institution Foundation.

The Penedès vineyards are located in a valley between the Mediterranean Sea and the Catalan Pre-coastal
Mountain Range. It is a privileged land with unique characteristics for viniculture, particularly with the whites varietals
that make up Spain's best Cavas.