Bodegas Muriel
Rioja, Spain

In 1926, Bodegas Murua was founded by José Murua in Rioja Alavesa, one of the three sub-regions of Rioja. Determined to follow in his father's footsteps, Julián Murua Entrena began his own wine journey specializing in the art of blending, eventually establishing Bodegas Muriel in 1982. Bodegas Muriel excels at producing elegant and complex Reserva-designated Riojas. The name "Muriel" is a blending that comes from the owners' last name, Murua, the region of Rioja and the town of Elciego. Julián and his son Javier now run the winery with a mission to meld the long-held winemaking traditions of the region with the new technologies of today.

Bodegas Muriel has the great fortune of residing in the town of Elciego, known for some of the best terroir in the region producing spectacular, complex wines. The vineyards are comprised of clay-chalk soils whose roots reach deep into the earth. The vines are also planted on terraced vineyards, which allow drainage and the prevention of erosion. The climate is a blend of Mediterranean with continental and maritime influences, creating ideal ripening conditions. The vines produce aromatic and elegant wines that are age-worthy.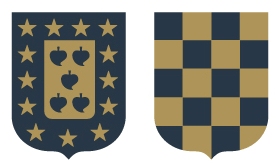 Heraldry is the practice of designing, displaying, and recording coats of arms and heraldic badges. Heraldry, as it is known in the world today, was first introduced in Spain as an art form. Historical records indicate that it was initiated in the 11th century and was developed for the purpose of assigning ranks to knights and nobles in the battlefield. These two heraldic shields represent the founders of the Bodegas Muriel winery. The first shield is the heraldic shield of the Murua surname, representing Julian's fathers family and the other, belongs to the surname Entrena representing Julian's mothers family.